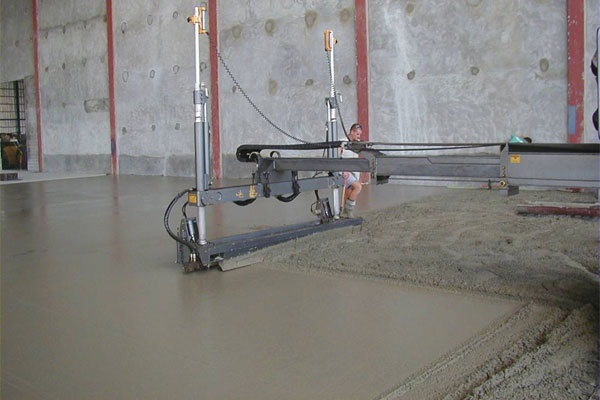 The construction quality is higher: the design elevation of the top surface of the floor is automatically controlled by laser and computer, and adjusted in real time (adjusted 10 times per second) to ensure accurate leveling. The test proves that the leveling of the laser leveling is at least higher than that of the traditional construction method. 5 times, the concrete density is increased by more than 20%, and it is suitable for dry hard concrete, fiber concrete and large aggregate concrete.
The vertical and horizontal slopes are automatically controlled by the computer to ensure the precise control and implementation of the slope of the floor.
The construction speed is faster - the work efficiency is increased by 100-300%, and the labor is reduced by more than 30%. It is especially suitable for engineering projects with tight schedules, large paving area and high quality requirements.
The laser emitters are arranged independently. The floor construction can be paved in a large area and can ensure the consistency of the ground elevation. The elevation is not controlled by the template, and there is no cumulative error. Compared with the traditional method, the construction joint of the floor can be greatly reduced. The post-maintenance costs of the ground and the use of templates are also greatly reduced.
The laser leveling head is composed of four parts: scraper, cloth spiral, vibrator and flat beam. During the construction, multiple processes (scraping scraper scraping, roller rolling, spreading cement, rafting, artificial wiping) are integrated into Together, it is done by the machine at one time, improving work efficiency and saving labor.
The vibration frequency of the vibrator is 3000 times/min, which is suitable for dry hard crucibles, steel fiber crucibles, and large aggregates.
According to the performance of the equipment, the laser leveling machine can only achieve the ground precision of Ff40-50, Fl40-50. If it needs to reach higher standards, it must be equipped with polishing machine, spreading machine, soft cutting machine, fast straight edge machine, etc. Auxiliary equipment and skilled operation.